2nd September
Just been offered a place with the Look UK marathon running team for London 2017
24th July 2016
Completed Snowdon Trail Marathon in 7hrs 23 mins, slower than I was hoping for but route was harder than I had trained for.
10th July 2016
Taper has started for Snowdon Trail Marathon. Just finished a 18 mile run, last long run.
19th April 2016
Just had my 26th group member join.
20th March 2016
Finished Ashby 20 in 3hr 28mins 35secs, not bad considering I didn't train hard.
28th November 2015
Gulp, just entered into toughest challenge, Snowdon Trail Marion in July next year.
16th December 2013
I have started the London Marathon 17 Week Intermediate Training plan and will.
26th November 2013
Today I have acheived 4 Personal Best times
3 Miles - 25mins 2secs
5k - 25min 56secs
10k - 53min 44secs
1 Hour - 11.02k
20th October 2013
Just competed in my first Half Marathon, The Great Birmingham Run of which I completed in 2hrs 28mins 18secs. Which was slower than I had aimed for but the atmosephere was great with people cheering you on, plenty of water stations, toilets for runners at water stations, even a station with jelly babies at around the 10 mile marker.
26th Sepember 2013
Just received my Marathon magazine stating that I'm in 2014 Virgin London Marathon
9th June 2013
I completed the Carsington 7+ in 1 Hr 16mins 21secs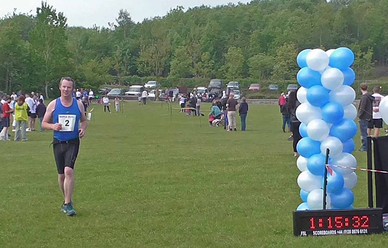 5th May 2013
I completed X-Runners Mad Monk in 1 Hr 23mins 37secs