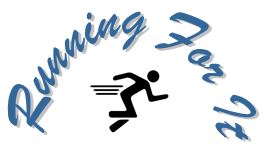 Group Leader
Who is your Group Leader?
Name: Patrick Tyers

Age: 39
Hi my name is Patrick Tyers and I am the one trying to get this group off the ground. If you hadnít guessed by now I love my running but I am also passionate about running, yes there is a difference that I shall explain in due course.
I am married and have three young children (all under the age of 14), I work for the a local utility company.
My running background is surprisingly short having only really started running properly in 2012. I have never been keen sportsman but Since I started in 2012 running has become a part of my life, I got started with a 10K Obstacle course and have completed several other runs and completed my first half marathon in October 2013. I ran London Marathon in 2014 and 2015. I have also completed Snowdon Trail Marathon which is deemed as one of the hardest marathons in the UK.
I love to run, yes, I love to push myself to the limit of my capabilities and fulfil my potential, I love to challenge myself I love the chance being able to aim for my personal goals, to often fail but having the opportunity to aim for them again the next time I run. But I am also passionate about running.
I am passionate about getting others to experience the sense of achievement of running further than you have ever done before, the sense of freedom being able to walk out of your front door and being able to go where ever you want or the exhilaration of crossing a finish line. Running is so much more than just going from A-B or for a jog around the block, yes it can be a mode of transport, a physical workout but it can also be your time, a time to clear your head of lifeís problems allowing you clarity and a fresh perspective. I could go on for page after page with an excitable rant but doesnít that define passion, an intense emotion towards a specific subject?
There are not many things that I really donít like and I certainly donít focus on them but there is one word that sums up an attitude that really riles me and that is ĎcanítĎ
Well that is a brief introduction to me I look forward to meeting you on a Tuesday.