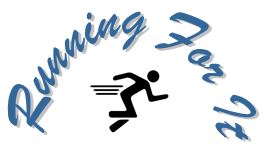 What Should I Wear?
The simplest answer is what ever you feel most comfortable in.
The beauty of running is that you don't need large amounts of kit to take part, I would normally say all you need is a pair of trainers and away you go but recently I have seen people running barefoot (not something I would recommend)
In all seriousness though you don't need large amount of expensive kit, we are doing these sessions to have a bit of fun not to win the London Marathon!!!
All I would say is be sensible and look the weather on the day, if it is cold a hat a gloves might be useful, if its raining a rain jacket might be useful.
I have put together a list of items to consider:
On your feet
A pair of trainers, – ideally not a pair that you've had for 15 years or a pair of 'fashionable casual' trainers. As you find you find yourself running a bit more in may be worthwhile investing in some running trainers
A pair of comfortable socks, try to avoid socks that rub, personally I use cheap Karrimor socks from Sports Direct
On your legs:
Shorts / Leggings / Running tights / tracksuit bottoms - totally down to personal preference I would however avoid baggy clothing if it is raining as it will get very heavy and uncomfortable. Personally I prefer to run in shorts, but obviously if the weather is cold then I will occasionally where tights!
On your Top:
T-shirts/Technical T-shirt, – if its warm all you will need is a T-shirt.
Long sleeve T-shirts – in cooler weathers a long sleeve T-shirt is can be great. The most important thing to remember is to 'Layer'. Wear layers of thin tops that you can peel off as you warm up, don't wear a vest/crop-top and a big thick sweatshirt.
Jackets – These are very much down to personal preferences, you can get thin running jackets that are lightweight and comfortable to run in.
Sports Bra – I can honestly say I have absolutely no informed thoughts on kit this so will refer you to the Running Bug
On your Head:
Hats – useful in both sunny and cold conditions but not absolutely necessary, again down to personal preference.
Sun-glasses – (ever the optimist!) – personally have never run with glasses so I couldn't comment on their merits. All I will say is make sure they are a good fit, when your running you don't want to be irritated by your glasses slipping.
On your hands:
Gloves - after your trainers you will think this is you most important piece of kit you own if it is cold. There is nothing more uncomfortable than numb fingers! they don't need to be specialist gloves, I used to run in a pair of knitted gloves, as long as they keep you finger warm.
For after:
I would suggest bringing bag with a dry top, bottoms and socks. the feeling of putting fresh sock and a dry warm tracksuit after a good run is fantastic.
Extras:
Water bottle with a drink for after.
Sun cream – if it's sunny.
Vaseline - if your prone to chafing.